What's Your Heavy: 25 Little-Known Seattle Records You Should Listen To
Just about anyone can recommend Nevermind or Ten to your music collection. Here, Stephen Tow, music historian and author of The Strangest Tribe looks beyond the Billboard 200 charts and MTV playlists at some great records from some of the forgotten bands of the '80s and '90s northwest music scene.
Some of the most interesting music in the Pacific Northwest was made by bands that were, by and large, unknown to wider audiences. This list, by the author of the essential read on the northwest rock music scene, The Strangest Tribe, looks at some of these bands. Unfortunately, many of these records are out of print, so go scourge the bargain bin of your nearest record store!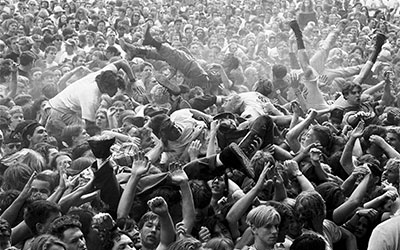 Northwest Passage
Northwest Passage is an exploration of the music scene centered around Seattle in the 80s and 90s. This project looks at all aspects of the rock scene, not just the part that became known as the "grunge explosion." Learn more about Northwest Passage
25 Little-Known Seattle Records You Should Listen To
The Blackouts
History in Reverse
(K, 2004)
Wonderful retrospective from a truly great Seattle band.
The U-Men
Solid Action
(Chuckie-Boy, 1999)
The entire magic that was the U-Men is difficult to capture on record. That being said, one listen and you'll at least have an inkling about the band's wonderfully managed mayhem. Brace for the opening tracks "Gila" and "Shoot 'em Down," and hear for yourself the unabashed creativity and insanity that was the U-Men. Ed. note: this is now available on the U-Men re-issue box set on Sub Pop Records.
Mr. Epp and the Calculations
Ridiculing the Apocalypse
(Super Electro Sound Recordings, 1966)
What's better than a Mr. Epp compulation? The record opends with DJ Stephen Rabow's famous "world's worst rock-and-roll band" commentary.
The Young Fresh Fellows
Fabulous Sounds of the Pacific Northwest/Topsy Turvy
(Popllama, 1988)
As Conrad Uno commented, "What's Not to like?"
Jim Basnight
We Rocked & Rolled: 25 Years of Jim Basnight & the Moberlys
(Disclosed, 2008)
Basnight's catchy, melodic songwriting ability is well captured on this retrospective. Standouts include "Rest Up," "Sexteen," "Live in the Sun," and "Blow Your Life Away."
Fastbacks
The Question is No
(1992)
It's hard to pick just one Fastbacks record. The Question is No is a wonderful early Fastbacks sampler, spanning recordings from 1981 through 1992.
The Walkabouts
Cataract/Rag & Bone
(Glitterhouse, 1989)
Just a fabulous, well-recorded folk meets punk meets... from the Walkabouts.
The Squirrels
Scrapin' for Hits
(Popllama, 1996)
TWhile it's tempting to include The Not-So-Bright Side of the Moon, this "greatest hits" sampler provides a nice introduction to this singular band.
Green River
Come on Down
(Homestead, 1985)
This record, issued prior to Deep Six, perhaps represents grunge's opening document.
The Posies
Failure
(Popllama, 1989)
Failure, like the Green Pajamas' Summer of Lust, represents a wonderful effort that can come only from young musicians unfettered by the vagaries of the world.
Screaming Trees
Anthology: SST Years 1985-1989
(SST, 1991)
The Trees' SST efforts come well represented on this compilation from the band's first EP and the three SST LPs that followed it.
Red Dress
The Collection
(Popllama, 1994)
This is not a rock record in any shape or form, but the two-disk collection contains a studio and live recording of Conrad Uno's favorite band. He describes them as "Captain Beefheart meets James Brown."
---
Upchuck
Gone But Not Forgiven
(dadastic!, 2009)
A well-recorded collection of Bowie-esque glam rock from a Seattle legend
Skin Yard
Hallowed Ground
(Toxic Shock, 1988)
Take dissonant chords, distorted hooks, a powerful drummer, and a singer who could sing like Ozzy Osborne, and you get Hallowed Ground.
Jack Endino
Angle of Attack
(Bobok, 1992)
While Endino's 2005 Permanent Fatal Error delves into more of a Skin Yard prog-meets-punk aesthetic, Angle of Attack is far more experimental and thus more exciting.
Coffin Break
Rupture/Psychosis
(C/Z, 1990)
These two record showcase Coffin Break as their irreverent selves.
Gas Huffer
Janitors of Tomorrow
(eMpTy, 1991)
For those who think Seattle was all about Soundgarden and Alice in Chains, put this record on and prepare for the requisite huh?
Mudhoney
Every Good Boy Deserves Fudge
(Sub Pop, 1991)
The Trees' SST efforts come well represented on this compilation from the band's first EP and the three SST LPs that followed it.
Love Battery
Dayglo
(Sub Pop, 1992)
It's hard to pick just one Love Battery record, since most of them are excellent, but I have a soft spot for this one, recorded at Conrad Uno's Egg Studios.
Truly
Fast Stories... from Kid Coma
(Capital, 1995)
This record came out well after this book's narrative, but I had to include it because it's that good.
Various
Seattle Syndrome, Volume 1
(Engram, 1981)
The first Seattle Syndrome provides a nice cross-section of Seattle's variety at the dawn of the '80s.
Various
Lowlife
(Ironwood, 1986)
Lowlife never got the street cachet Deep Six received, but overall, it's a much better record.
Various
Secretions
(C/Z, 1988)
Just preceding Sub Pop 200, Secretions became overshadowed by it, but may be the superior comp, with selections from Skin Yard, Couch of Sound, Capping Day, Vexed, Crypt Kicker 5, Pure Joy, Coffin Break, and H-Hour (with TAD's Tad Doyle on drums).
Various
Sub Pop 200
(Sub Pop, 1988)
In many ways, Sub Pop 200 is the comp all others are measured by. While the label then narrowly defined itself in terms of the Mudhoney/TAD/Nirvana grunge axis, this record goes beyond all that to provide a valid document of late-'80s Seattle.
Various
Bite Back/Live at the Crocodile Cafe
(Popllama, 1996)
The record features selections from some of the Northwest's most amazing artists, including Gas Huffer, the presidents of the United States of America, the Young Gresh Fellows, the Minus 5, Love Battery, the Walkabouts, Flop, Girl Trouble, Mudhoney, TAD, the Fastbacks, Mad Season, and Built to Spill. Get this record if at all possible.
---