Reciprocal Recording: The Story of a Recording Studio
The small, unassuming, triangular-shaped building at 4230 Leary Way NW in Seattle might not look like much, but in its heyday, it was an epicenter for Seattle rock music
You might never guess from looking at it, but the triangular building at 4230 Leary Way NW in Seattle was once the recording home of some of the important bands in the Seattle grunge era. In its short run, the building, a corner grocery store at one point, hosted a "who's who" list of the Seattle grunge scene – bands like Soundgarden, Nirvana, Green River, and TAD – but also a host of other sounds as well.
This is the story of Reciprocal Recording, a small, humble studio in an industrial neighborhood of Seattle that changed the trajectory of "grunge" history.
---
The Beginning
After being blown away by a Gang of Four/Mission of Burma performance in Boston, Penn State University graduate Chris Hanzsek started spending time with bands, with the idea of possibly even recording them.1 It was in Boston where he started his first studio. "I saved my pennies so I could put together a small home studio," says Hanzsek. "I had ambitions to record my own stuff, but found out quickly that the gear wasn't cheap so I started charging for my services."
But with the Boston scene saturated with bands and studios, and the cost of living in Beantown escalating, Hanzsek decided to try his hand in another city. Seattle was suggested to him, but Hanzsek was unsure about the music scene there. After hearing the Seattle Syndrome compilation and singles from 3 Swimmers and the Blackouts, he moved to Seattle in February, 1983 with the goal of starting his own studio. "I loved the music and club culture in Boston," Hanzsek tells Northwest Passage, "but after hearing a few of the bands in Seattle I decided that it might just be the perfect spot to grow a studio from scratch.  I took about half my life savings and bought a plane ticket." The untapped Seattle music scene would be perfect for the adventurous Hanzsek. "Back then I was all about breaking new ground and pushing the limits."
On January 1, 1984, Hanzsek and his partner Tina Casale opened the first Reciprocal Recording. It was located in an office suite next to a railroad switching yard in the Seattle neighborhood of Interbay. The train yard was so close that low frequency noises from the trains seeped into the studio. "When a band was mic'd up while a train was passing," Hanzsek explains, "all the meters would peg at once and we'd have to take a 'train break'. 2 The first Reciprocal hosted a number of notable Seattle bands, including Green River, The Accused, The Walkabouts and the Rejectors. Hanzsek charged only 10 dollars an hour to record at Recoprical, which Hanzsek has said was "like ants to the ice cream on the sidewalk."
Chris Hanzsek and Jack Endino, 1986.
However, the studio closed in 1985 when the landlord threw out Hanzsek and Casale. Without his own recording space, Hanzsek worked in Paul Scoles' Ironwood Studios to record, among other recordings, the Deep Six compilation. This would be first album on his new record label, C/Z Records. Although the Deep Six record would later be known by some as the genesis of "grunge," (with songs from Soundgarden, Malfunkshun, the Melvins, Skin Yard, the U-Men and Green River) it wasn't highly rated at the time. "Paul didn't like the Deep Six project.  I think he thought the bands sucked and the recording was not up to snuff," explains Hanzsek. "I was not all that experienced as an engineer at that time and I wasn't very familiar with the room so he might have had justifiable concerns."
In June 1986, Reciprocal reopened in Ballard. Endino had learned of a space that was about to become vacant. "I knew where there was a studio [Triangle Studios] that was about out to go out of business. And I said, 'Hey, I know the guys who have this building…" you're looking for a place to set up a studio to work in, and I know all these bands."3 The two started as partners, but the arrangement lasted only about a month or two when, according to Hanzsek, Endino announced that he wanted to be an independent producer, free of any obligations to the studio.
Jack Endino outside Reciprocal.
The new Reciprocal was a far cry from the modern studios that big bands get put into these days. While the recording room was a decent size, the control room was, according to Endino, "so small you couldn't even fit all the band members in it."4 Hanzsek concurs: "The main room sounded good for recording, but the control room was terrible. Too small and shaped in the most god awful wrong way possible."
Despite its cramped quarters, it became a popular recording spot. At its peak, the studio was booked up to 17 hours a day, and it wasn't just Seattle's Sub Pop acts that Endino brought in. Bands from across the nation were making the trek to record at Reciprocal. It may have had modest beginnings, but the studio became known as a highly reputable recording location. "Those years in the mid-eighties Reciprocal," Hanzsek says, "was like a race horse out of the gate before the other horses even knew it was race day." In 1988, Reciprocal even won a NAMA award for 'Best Recording Studio in the Northwest.'5
Reciprocal was, of course, the site of many of Sub Pop's early "grunge" acts, all recorded by Endino. Green River recorded their Dry as a Bone LP in June on 1986. Soundgarden recorded their debut EP, Screaming Life, in 1987. Mudhoney and TAD recorded their debut albums there as well.
---
But the most famous band to record at Reciprocal is surely Nirvana. The band, not even named Nirvana yet, but "Ted Ed Fred," were looking to record some tracks. Endino was contacted by Kurt Cobain, who allegedly wanted to record at Reciprocal because Soundgarden's Screaming Life was recorded there.
"I received a call from a guy, who said his name was Kurt, and that he was a friend of the Melvins," Endino recalled in the documentary, Hype! "He wanted to come up and record some songs. And I said, 'Sure, friend of the Melvins, friend of mine.'" Endino invited the band to drive up from Olympia to record. Without a drummer in tow, Cobain and Krist Novoselic brought in Melvins drummer Dale Crover to sit in on drums on the band's first studio session.
The original Nirvana demo tape. Recorded 23 January 1988.
That first Nirvana recording session took place on January 23, 1988. Endino recorded and mixed ten songs with the band in one afternoon. Two of these tracks would appear on Nirvana's debut album, Bleach, in 1989. For his work that day, Endino was paid a sum of $152.44.6 Afterwards, Endino asked the band if he could keep a copy of the demo, which he shared with several record labels, including Sub Pop. Endino's one-day session with Nirvana at Reciprocal would get them their debut album released on Sub Pop.
But while Jack Endino's work with Sub Pop was perhaps the most known, "grunge" was not the only music recorded at Reciprocal. Hanzsek and house engineer Rich Hinklin recorded a variety of bands, including jazz, folk, experimental, blue and metal acts. Though many Sub Pop/grunge acts recorded at Reciprocal, the studio was never just a grunge studio.
The Closing of Reciprocal
Hanzsek pulled the plug on the studio in August of 1991. "After five-plus years of making surprisingly creative, very affordable, and technically competent recordings, I decided I didn't want to keep solidifying my position as owner of the Sub Pop production facility," Hanzsek says.
Regional Acts Recorded at Reciprocal
Selected albums
Nirvana, Bleach
Green River, Dry as a Bone
Tad, God's Balls
Mudhoney, Mudhoney
Soundgarden, Screaming Life
Mudhoney, Superfuzz Bigmuff
Seaweed, Despised
Blood Circus, Primal Rock Therapy
Coffin Break, Rupture
Treepeople, Time Whore
Various Artists, Another Damned Seattle Compilation
Other bands that recorded at Reciprocal include Pearl Jam, Malfunkshun, Sadhappy, Pure Joy, and the Thrown-Ups
He didn't stay away from the recording game for long, however. The success of Nirvana and Pearl Jam convinced him to keep recording bands. He started Hanzsek Audio, a new space that he designed personally, with much better acoustics, and a different name that would allow Hanzsek, in his words, to "get out from under the Sub Pop cloud." Hanzsek's new studio venture stayed open until 2005, when once again, a landlord gave him the boot.
As for the Reciprocal building, after Hanzsek closed his studio, it became Word of Mouth, under Hinklin's ownership. In 1993, it became John and Stu's Recording named after producers John Goodmanson and Stuart Hallerman (whose first clients would be Pearl Jam). Later, it would be a temporary home of yet another studio, Hall of Justice, ran by Death Cab for Cutie guitarist Chris Walla.
---
It's important to remember Reciprocal's legacy as more than just grunge or Sub Pop. It was a studio that became known for its technical acumen and its diverse music, one that made a mark on the northwest music scene. Hanzsek: "We were an energetic organization that pushed the envelope year after year to bring artistic and technical excellence to the music community in Seattle. We set a ridiculously high bar for price versus performance, and as a result caused a lasting positive impact on the growth of the music industry in the northwest." Reciprocal certainly opened the door for other successful studios in the region.
The 4230 Leary Way building still exists, and it's as unassuming today as it was back in its heyday. And while it may never host another band again, it remains a historical landmark and one of the most important locations in Seattle music history, one whose influence went well beyond grunge.
Footnotes
All quotes from Chris Hanzsek from exclusive interview with Northwest Passage, except:
Stephen Tow, The Strangest Tribe: How a Group of Seattle Rock Bands Invented Grunge
Chris Hanzsek interview, One Louder magazine
Stephen Tow, The Strangest Tribe: How a Group of Seattle Rock Bands Invented Grunge, p. 115
Jack Endino, Nirvana FAQ
Chris Hanzsek interview, One Louder magazine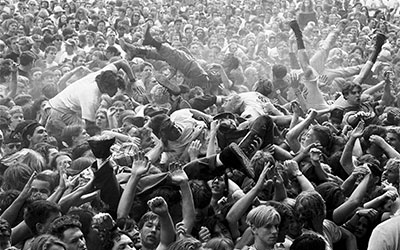 Northwest Passage
Northwest Passage is an exploration of the music scene centered around Seattle in the 80s and 90s. This project looks at all aspects of the rock scene, not just the part that became known as the "grunge explosion." Learn more about Northwest Passage