What's in a name: the origins of how bands got their names
Street signs. Song lyrics. Even the name of a hated co-worker. These have been the origins of the names of some of the most well-known rock bands of the '80's/'90s northwest music scene.
The northwest music scene had a ton of goofy band names. Sex With Sarah, Quigzy Stick, Elvis Love Child, Bob's Your Uncle, Mona Lisa Overdrive, and Slam Suzanne were among actual bands that played during the grunge era. But even the better-known bands had stories behind their names.
Here's the story behind how some bands, famous and not-so-famous, got their names. Have more to add to the list? Contact us at northwestpassage1@gmail.com.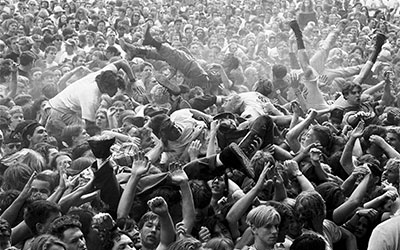 Northwest Passage
Northwest Passage is an exploration of the music scene centered around Seattle in the 80s and 90s. This project looks at all aspects of the rock scene, not just the part that became known as the "grunge explosion." Learn more about Northwest Passage
764-HERO
Named after a Washington State hotline to report HOV lane violators on Interstate 5.
Alice in Chains
Originally spelled Alice N' Chainz, Layne Staley shed light on the subject in a Rolling Stone article (11-26-92): "The name came from a side project of my old group. We were going to have this band that dressed up in drag and played heavy metal as a joke."
Bikini Kill
Named after the newsletter written by Kathleen Hanna, Kathy Wilcox and Tobi Vail, whose title came from a line in a Lois Maffeo-penned cabaret song.
Blood Circus
According to Blood Circus guitarist Geoff Robinson, the name came from a "motorcycle gang trash novel from the 60's."
Brad
Named after the person who claimed the band's original name of Shame.
Crackerbash
Name was a word singer Sean Croghan made up as a response to a racist acquaintance, who said he liked to "nigger bash".
Daddy Hate Box
Name is a parody of Mother Love Bone.
Green River
Named after a river south of Seattle, where a serial killer used to dump his victims after he killed them. (related fact: the father of Alice in Chains drummer Sean Kinney was on the task force for the infamous Green River serial killer, who was finally arrested in 2001.)
Hole
Name from a line in Euripides' ancient tragedy Medea: "There's a hole burning deep inside me."
Love Battery
Name from a song off the Buzzcocks' debut album, Another Music in a Different Kitchen.
Mad Season
Named after a English term for the time of the year when psilocybin mushrooms are in bloom. (Band was originally named The Gacy Bunch, after serial killer John Wayne Gacy and the television show The Brady Bunch.)
Mr. Epp and the Calculations
Named after a math teacher at Mark Arm and Jeff Smith's high school.
Melvins
Named after a hated ex co-worker of singer Buzz Osborne.
Nirvana
Named after the Buddhist state of freedom from suffering by band leader Kurt Cobain, precisely because of the contrast with his angry, anguished, pain-racked sound. "I wanted a name that was kind of beautiful or nice and pretty instead of a mean, raunchy punk rock name like the Angry Samoans," he later explained.
Pearl Jam
Allegedly named after a hallucinogenic jam, Peyote, that singer Eddie Vedder's part-Native American grandmother, Pearl, used to concoct, hence the name, Pearl Jam. Others say the name is a semen reference. (Before the band was called Pearl Jam, they were known as Mookie Blaylock, then a New Jersey Nets basketball player.)
Pretty Girls Make Graves
Named after The Smiths song of the same name (which itself was named after a quote from Jack Kerouac's The Dharma Bums)
Sleater-Kinney
Derived from Sleater-Kinney Road, Interstate 5 exit number 108 in Lacey, Washington.
Soundgarden
Named after a sculpture in Seattle called "A Sound Garden", which makes music as the wind blows through the pipes.
U-Men
Named after a semi-official Pere Ubu bootleg LP.