Momma-Son and the Making of Pearl Jam
After the death of Mother Love Bone vocalist Andy Wood, Wood's former bandmates Stone Gossard and Jeff Ament were still trying to figure out their next move. This excerpt from Jessica Letkemann's TwoFeetThick.com mini-book explains how a series of coincidences led to the creation of Pearl Jam.
An excerpt from Music for Rhinos: The Making of Pearl Jam
The year 1990 started off with such promise for Stone Gossard and Jeff Ament. Their band Mother Love Bone had their debut album scheduled for an April release, and they were to embark on a three-month national tour in May. Their future looked bright and full of promise. That promise ended with Andy Wood's overdose on March 16, with his death coming three days later. He was just 24 years old at the time of his death.
Understandably discouraged, Gossard and Ament eventually decided to write songs again and invite Mike McCready in a new band. In this excerpt from Music for Rhinos: The Making for Pearl Jam, we examine the so-called "Momma-Son" demo and how it brought Eddie Vedder to make Pearl Jam. The rest, they say, is history.
---
Stone Gossard Demos
"At that point, after Andy died, Stone was the only person [from Mother Love Bone] writing on a really consistent level," Jeff Ament explained. Gossard and McCready were honing riffs into songs in Gossard's parents' attic in Capitol Hill, the same space where Green River and Mother Love Bone had once gathered.
The late, great Andrew Wood.
"It takes somebody to jump off a cliff, [to] just do it," Gossard told me1, recalling his drive to put together a new band after Mother Love Bone. "I had the personality type that said let's just keep going." Mike, for his part, lobbied Stone to invite Jeff and showed up at a War Babies gig to convince him. Jeff says he agreed to "listen to the songs or play along or whatever."2
Up in the attic, Stone, Mike and Jeff jammed on Gossard riffs that formed the basis of later songs that had been born back when Andy Wood was still treading the boards, preaching the good-time love rock gospel. "Dollar Short," the music that would come to be Pearl Jam's "Alive," had started life as a full-on Mother Love Bone song, Gossard reveals. Complete with Andy Wood lyrics, Gossard remembers that MLB even performed it at a Portland gig. "I think we played it at the last Mother Love Bone show at Satyricon3," he says. "There's a taper down in Portland who might have it. I've never heard it [again], but I'm super curious."4
The riff "Troubled Times" not only became the Temple of the Dog song "Times Of Trouble" and Pearl Jam's "Footsteps," it had also been a half-finished Mother Love Bone song called "So Pleasing" that Andy Wood gave salacious, off-the-cuff lyrics. For the new band, other songs evolved that summer, complex architectures of chord progressions and interlocking parts. Lyric- and singerless, Gossard gave these compositions riff-based working titles like "Richards E" ("Something about it reminded me of Keith Richards," he says) and "Agyptian Crave" ("It was kind of an eastern scale except it was in the key of A.")
"I've got tapes and tapes and tapes of things just named 'Riff 1', 'Riff 2' which I'll never look at again because I need to remember," Gossard explains. "I need the name to remind me of it. So [the riff titles were] just a loose association thing." With a dozen of these written, Stone was ready to complete the line up with a drummer and a singer. He decided to borrow a drummer so that they could record his instrumentals.
Soundgarden's Matt Cameron, who they were already about to work with on Chris Cornell's Andy Wood tribute Temple of the Dog, readily agreed to pinch hit. The resulting demo would be the calling card for potential bandmates. "Matt Cameron was the best drummer in town, everybody knew it," says Gossard. "So when I wanted to do demos, I was like, 'I don't have a drummer [but] maybe I can just get a guy to come in: Matt. It didn't require him to be in the band. It was just the idea that, God, he's the greatest [and] maybe he wants to do it."
It takes somebody to jump off a cliff, [to] just do it. I had the personality type that said let's just keep going.

Stone Gossard on starting a new band after Mother Love Bone
Cameron had been one of the most admired drummers in the small Seattle scene since his mid-80s days with Jack Endino (later engineer of some of the most noted records of the era) and Daniel House in Skin Yard. Soundgarden had managed to land him in 1986. "I knew [Stone and Jeff] from when I first started playing with Skin Yard," Cameron told me in 19995. "They went to Skin Yard shows. I met them at parties and saw them around." "For sure, in terms of learning Pearl Jam music -- what became Ten, that was all starting with Mike and I in the attic of my parents' house. We learned the arrangements first and got a hold of Jeff again and Matt," Gossard says6.
"Matt and Jeff were probably learning them together right away [after] Mike had had a first or second pass at something so he had at least a rough idea of what he was gonna do." With Jeff onboard and Cameron filling in, rehearsals continued in mutual friend and fellow musician Kristen Barry's basement as well as at Gossard's rented house. Stone mapped out the songs on giant sheets seemingly straight out of a boardroom brainstorming session.
"I remember Stoney had written out these big charts, like big paper presentation tablature charts. And he was writing out the letter G four times to the letter E. He was fond of writing out charts," Cameron laughed at the memory when talking to me in 1999. "They were just pieces of cardboard boxes basically just sort of cut out," Gossard explains. "I didn't really know how – and still don't know how – to write any real charts, but it had four of these things and three of these things just so we could look at something while he's playing and know how many phrases we were going to do before we made a change."
The makeshift group entered Chris Hanzsek's Reciprocal studio on NW Leary Way in August for the Stone Gossard Demos sessions. Hanzsek, who had engineered both Soundgarden and Green River's contributions to the seminal Seattle compilation Deep Six four years earlier, was behind the boards.
Over two consecutive weekends, McCready, Ament, and Gossard hammered out twelve instrumentals7 with Cameron and McCready's ex-Shadow bandmate Chris Friel sitting in on drums when Cameron wasn't available. Drafted by McCready, it's Friel who drums on the instrumental demos they made of "Troubled Times" and "E Ballad." In a 2002 email exchange with me, Endino remembered that Hanzsek labeled the raw reels "Stone and Co."8 When they went into Reciprocal, "I'm sure I had my charts," Stone laughs. "I was very driven... I was pretty excited that it was going from song ideas in your head to arrangements with bass and drums that sounded like somebody could, you know, sing on 'em." And so it was that even as they were recording that August, "Stone and Co." also retreated to their new Galleria Potatohead basement rehearsal space to audition singers and drummers.
Wanted: Singer & Drummer
Michael Goldstone, the young A&R guy who'd signed Mother Love Bone to PolyGram was eager to bring this new project over to new his gig at Epic. Goldstone was among the first to get a copy of the Stone Gossard Demos, which had been edited down to five instrumentals. At a party in early September, Goldstone ran into Jack Irons, who he knew from the early '80s pre-Chili-Peppers band What is This?, which had briefly been signed to Goldstone's earlier employer, MCA. One version of the story has it that Goldstone sent Irons the tape; the story Stone and Jeff most often tell is that they personally gave it to Jack. Another version has it that Stone and/or Jeff stopped by Irons' place in L.A. while on a Love Bone publicity jaunt, found that Jack wasn't home and left the tape with his wife-to-be.
No matter exactly how the cassette reached Jack, it certainly did. Stone and Jeff were definitely in Los Angeles more than once, including a stint for a few days starting sometime before September 13 for the Concrete Foundations Forum metal convention at the Sheraton Plaza La Reina near LAX to promote Love Bone, scout for players, and do interviews, according to a little blurb in Seattle's Rocket weekly newspaper at the time. During those trips in August and September they would talk with both the Los Angeles Times and Rolling Stone. Interestingly, they were sure to mention their call for new bandmates in the RS interview9 and Jeff expressly said they had their heart set on a singer that was anything but like Andy Wood: "To go out and find another singer who looked like Andy and maybe sang a little bit like Andy would just be prostitution."
Shortly after the September 20 issue hit the stands on September 7, they had found their guys. Jack had been trying to reconnect with Alain Johannes from What Is This? and Natasha Schneider since before he'd walked away from the Chili Peppers, blinded with grief over his best friend and bandmate Hillel Slovak's heroin overdose on June 27, 1988. By fall 1990, Jack had not only finally put together Eleven with Johannes and Schneider, he had agreed to hit the road with Red Kross in mid-September. Additionally, his first child was on the way.
Drumming for Gossard's new project, therefore, wasn't something Jack could sign on for, but he did agree to pass the tape along to a more likely drummer or singer. Jack and our workaholic surfer- songwriter-singer Eddie Vedder, meanwhile, had been close friends since they'd met at a November 21, 1989, Joe Strummer gig at the Bacchanal where Ed was a roadie and Jack had been Strummer's tour drummer. Fresh from the Yosemite trip, it was Eddie that sprang to Jack's mind.
In the months since 25-year-old Eddie Vedder had left Bad Radio, he'd hooked up with drummer Brad Wilk and guitarist Kyle Baer to form a short-lived L.A. based funk-rock band called Indian Style. "I'd been playing with Brad since high school," Baer told BAM magazine in 199210. "We were in party bands together. I was into Led Zeppelin, the Clash, and the Ramones. When we finally got it together, we had a sort of Chili Pepperish funk thing, and Eddie Vedder was the singer. We were called Indian Style."
To go out and find another singer who looked like Andy and maybe sang a little bit like Andy would just be prostitution.

Jeff Ament
Shortly thereafter, Wilk hooked up with Tom Morello, who, like Eddie, was a SoCal transplant from the Chicago area, and moved on to the then- forming Rage Against the Machine.11 Baer put together Greta, which released a couple of records on PolyGram12 before crumbling in the mid '90s. And Vedder, Vedder was looking for a new gig, possibly on his own. Irons' copy of Gossard's tape found him first. Jack quickly recommended Vedder to Stone and Stone gave the OK to pass along the tape to him.
"Jack had just been hanging out with Eddie and Ed had been coming up from San Diego and hanging out with [his girlfriend] Beth, who worked in L.A. at the time," Jeff explained to me in 199913. "Jack and Ed were playing basketball one day and Jack said, 'hey man I got this tape by these guys...'"
And so it was that Jack gave the SG Demos to Ed during a basketball game in L.A. Typically, the pair played on Friday nights, but it's unclear if Jack handed it over during the normal weekly game (and then Ed sat on it for a few days) or if they played hoops randomly on September 12, a Wednesday (jibbing with the oft-told idea that Ed was inspired immediately).
Either way, three hours of highway south from L.A. in San Diego, Ed arrived at work for his graveyard shift at a Chevron petroleum warehouse just as the date crossed into September 13 at midnight, and he began to really listen to the tape. Five instrumentals. "Dollar Short," "Troubled Times," "E Ballad," "Richard E" and "Agyptian Crave." He listened to the tape over and over that night at work.
9.13.1990 Momma-son
Eight a.m. on September 13, he clocked out, threw his board into the back of his black '89 Toyota pick-up truck, and hit Pacific Beach as the fog crept in off the ocean. The music rolled with the waves as he surfed. Difficult themes from his own teen years surfaced and lyrics began to coalesce in his mind. By the time he got out of the water, three melodies and sets of lyrics were forming. He raced to his girlfriend's place in nearby Mission Beach because it was much closer than his own digs out east near the Bacchanal. The words might slip away if he didn't hurry.
Still wet that Thursday morning, he scribbled outlines on sticky notes from work, pulled out his trusty four-track, and began to sing. Out came three songs, a brief rock opera shades of his beloved Who's Tommy. "The first thing that was written was these three songs," Ed said on stage in 1994. "Without even knowing these guys, we kind of wrote music together. It was this cool, little mini opera... about birth... incest... and death."
"Dollar Short" became "Alive," Act One, where Eddie shoehorned wide- eyed autobiography about the lies surrounding his parentage into the groove, rounding out the developing storyline with some fiction about incest. The story told in "Alive," Eddie explained to me in 199915, was inspired by "a situation I felt I could draw from... this strange twist in my life having to do with a father that I didn't know was my father until later in my adolescent years. And then looking back and realizing the whole time that I was growing up I was maybe meeting him briefly. I would catch looks on my mom's face once in a while. I don't know what it was really, but I think she was seeing my real dad in me. He had been long passed [away]. Sometimes we're a little bit like carbon copies, you know."
'Alive' was about "this strange twist in my life having to do with a father that I didn't know was my father until later in my adolescent years... I would catch looks on my mom's face once in a while. I think she was seeing my real dad in me. He had been long passed [away]. Sometimes we're a little bit like carbon copies, you know."

Eddie Vedder
"When they finally did tell me," Eddie continued, "I had already been playing music for quite a while. And they said, 'That's where you get your musical talent. He was like a lounge singer or something. And I thought, 'Well, fuck you. He never showed me a chord, I've done this on my own.' That's how you feel, and rightly so, as an adolescent: that you get so little credit for so many things, that when you do something, you want the credit. But what I tried to do [with "Alive"] off that was make it a little more interesting and turn it into more of a serial killer type scenario. So lyrically, I ended up with a totally fictional piece creating a situation where the mom was going back – and it's pretty warped here – but the mom goes back, sees the child as the carbon copy of the dad, the person she loved, the guy who's gone, and she can't help herself. She goes for the son."16
"What I'd like to clarify," Eddie went on, speaking of the incest in the song, "is that this never happened [in real life], you see." Did people really think that? "I think so! I found that out from my mom, who, God forbid she needs anymore trouble in her life. She's been through a lot. But that was my right as a writer to be able to do whatever I want with it."
Next, the driving "Agyptian Crave" became "Once," Act Two, in which the protagonist from "Alive" has become "a serial killer [who'd] been abused by his folks" thus provoking the "nasty things [he did] to other people," Vedder told the crowd at a Pearl Jam show four years later17. "The second song was 'Once,' which was again dealing with life and death and craziness," Eddie said to me in 1999. "That was him going to trial for his crimes or whatever.... I had the silly call and answer [verses]. There's like a trial and a jury." "Troubled Times" morphed into "Footsteps" for the coda, Act Three. Somber and desolate even as an instrumental, Eddie's words and voice18 sharpen the song's forlorn feeling. He builds in intensity singing about the protagonist who in the end finds himself locked up for his crimes.
"Footsteps," Eddie explained, "is when he's in the jail cell." Eddie brought the mix-down of his four-track tape in to work that night, as Thursday rolled into Friday, September 14. He filled the long hours by crafting artwork for the new music on the office copier, shades of the distressed, Xeroxed flyer and cassette j-card creations he'd done for Bad Radio and his own solo demos, again copying his goggled face, adding prison bar-like lines and drawing swirls that resembled four sperm fertilizing an egg in Wite-Out before dating it 9/13.
[VIDEO] Listen to the "Momma-Son" demo
He scrawled "For Stone + Jeff" on the tape he'd recorded over, a Merle Haggard compilation called "Best of The 80s" (due out Oct. 5, 1990), and whited-out all of the Haggard info on the tape itself except for a track called "A Friend In California," and letters spelling out, "E D D I E." In the process Vedder named the three-song package "Momma-son," a poignant variation on the term mamasan, inspired in part, he confirmed to me in 199919, by a line in the Clash's "Straight to Hell." Mamasan, literally, is a loose rendering of the Japanese for "mother-teacher," or more generally, a maternal figure. In the Clash song, Mamasan is the mother of an Amerasian kid whose G.I. dad abandoned them in Vietnam when he was sent home from the war. "Momma-Son," then, is an all-too-fitting name for a trilogy about the crimes of a fatherless son.20
The original Momma-Son tape that Vedder mailed to Gossard in Ament in October 1990.
Eddie dropped the tape in the mail addressed to Jeff in Seattle that Friday morning after work. Two days later, ironically, he would come across the issue of Rolling Stone that included Jeff and Stone's search for a new singer. Despite the oft-told bit about how Eddie jetted off for Seattle without ever meeting his would-be bandmates, Jack actually made introductions at that metal convention trip in Eddie's neck of the woods in mid-September. Jeff has spoken at least twice of meeting Eddie face-to-face before Eddie sang over the tape. In a 2000 KNND interview, Jeff also mentioned that Eddie passed along his own demo tape, "just him and a guitar" to them before tackling their songs.
In January of 1991, Stone flat out told a Seattle radio's KXRX, "we met [Eddie] in LA and then flew him up two weeks later."21 "We met him at the Hyatt hotel and said hello and just got to look at each other. Immediately, he was a humble guy and really excited. He played it pretty cool and it seemed right," Stone told me recently, confirming the fact that they met in L.A. before Ed ever went north.22
Stone and Jeff, meanwhile, pressed on with filling out the band. Those last weeks of September, they invited Dave Krusen down to the Galleria Potatohead basement to audition. A fellow Seattle scenester named Tal Goettling, who knew Stone and Jeff from playing in a series of his own bands on bills with Green River and possibly even Jeff's first band Deranged Diction, passed the Stone Gossard Demos tape along to Krusen, a good friend who'd drummed in a couple of his old bands. There were at least two Krusen audition sessions bookending another Jeff and Stone Mother Love Bone-related business trip, this time to New York in late September or early October. Without any fanfare, he was invited to join the band.
"Momma-Son" reached Seattle around Tuesday, September 18, and Jeff was blown away when he listened to what Ed had done with the music. He played it a second time to make sure it had the same effect on repeated listens before picking up the phone to beckon Stone, who had a car and could get to Jeff's faster than Jeff could reach Stone on his bike. Stone's opinion matched Jeff's. "As soon as we heard the work that he had done," Jeff told me in 199923, "I was pretty much beside myself. [We said] we gotta get this guy up here somehow." They wanted him bad, but first they were gonna have to find him.
"I was really hard to get a hold of," Eddie said on 91X San Diego in 1994. "I hate phones. Between the midnight shifts and my schedule, my self-imposed disciplines, I was never around for phones. I found out a week [after mailing the tape] that Jeff and Stone had been trying to get a hold of me. Jack told me they wanted to fly me up to Seattle or something. Fly me up to Seattle? Fly me up? They can afford [that]? Shouldn't I hitchhike or something?
Jeff finally managed to get Ed on the phone, and over a series of rhapsodic chats, plane tickets were bought with money pitched in by Michael Goldstone, and Eddie secured a week's vacation on short notice from his job. And sometime among all of the plan making, Eddie turned Stone's "E Ballad" into "Black."
On October 7, the day before the trip north, Eddie drove up to Irvine, CA and spent his Sunday afternoon at the proto-Lollapalooza multi-act rock show A Gathering of the Tribes, which had been organized by the Cult's Ian Astbury.24 On the bill that day, most notably, was Soundgarden, and Eddie, in future years onstage with Pearl Jam25, repeatedly and fondly recalled how one day he was in the pit, twenty yards from Matt Cameron and Chris Cornell, and the very next day he was in Seattle being welcomed into Stone and Jeff's nascent band and contributing to Cornell and Cameron's ad-hoc Temple of the Dog.
Read about the band's first show and the rest of Pearl Jam's pivotal 1990 at TwoFeetThick.com.
Jessica Letkemann is a New York based digital music journalist and editor. She's currently VP & Editor-In-Chief of Digital at Fuse Media (Fuse.tv) and was previously managing editor of Billboard.com. She has also been on staff at Spin and Premiere magazines. Letkemann (@Letkemann on Twitter) is also co-editor of Pearl Jam fansite TwoFeetThick.com..
Footnotes
Stone Gossard interviewed by author (Jessica Letkemann) & Kathy Davis, September 6, 2010.
ibid. Jeff Ament intv by author (Letkemann), 6.1999.
Per a flyer of the show, Mother Love Bone played Satyricon on August 3, 1989. Without a recording it's unclear if this is the show Stone is talking about. Portland is a reasonable drive from Seattle, so MLB likely played there fairly often.
ibid. Gossard interviewed by author (Letkemann) & Davis 9.6.2010.
Matt Cameron interviewed by author (Jessica Letkemann), February 1999.
ibid. Gossard interviewed by author (Letkemann) & Davis 9.6.2010.
Full Stone Gossard Demos 1990 tracklist: The King, Dollar Short, Richards E, E Ballad, Wreck of Edmund Fitzgerald, Weird A, 7Up, Doobee E, Agyptian Crave, Troubled Times, Evil E, Folk D. Edmund Fitzgerald is no relation to the Gordon Lightfoot song.
Email exchange with Jack Endino by author (Jessica Letkemann), 2004
The Rolling Stone piece, by writer Dave DiMartino, also ran an odd photo of "Mother Love Bone" taken for the magazine: Bruce Fairweather, Stone, and Jeff but no Greg Gilmore. Jeff, poignantly, is in a LuvCo. t-shirt and Team Love Bone shorts. Rolling Stone, Sept. 20, 1990, page 24.
BAM magazine, November 13, 1992.
Michael Goldstone, who signed both Mother Love Bone and Pearl Jam, would also end up signing Rage Against The Machine in 1991.
Greta's two albums are No Biting (1993) and This is Greta! (1995). Incidentally, both were released on PolyGram's Stardog imprint, which had been named by and created for Mother Love Bone back in 1988 and resurrected in 1991 to release records by Ugly Kid Joe and "alternative/metal street level bands," according to an Aug. 25, 1992 PolyGram press release.
ibid. Ament interviewed by author (Letkemann) 6.1999.
Eddie Vedder onstage at the Fox Theater, Atlanta; April 2, 1994.
Eddie Vedder interviewed by author (Jessica Letkemann), June 1999.
ibid. Vedder interviewed by author (Letkemann), 6.1999.
Ibid. Vedder onstage, 4.2.1994.
At the start of Gossard instrumental "Troubled Times," someone sneezes. Adding his vocals to create "Footsteps" on "Momma-Son," Eddie answers the sneeze with "bless you."
ibid. Vedder interviewed by author (Letkemann), 6.1999.
It was also a fitting title considering that it was at a gig by the Clash's Joe Strummer gin San Diego where Eddie first met Jack Irons, the man who connected the two parties that became Pearl Jam.
Stone Gossard speaking to KXRX radio Seattle, January 1991.
Stone Gossard interviewed by author (Jessica Letkemann) & John Reynolds, September 22, 2010.
Ibid. Ament interviewed By author (Letkemann), June 1999.
Astbury was an acquaintance and major fan of Mother Love Bone who had been so deeply affected by Andy Wood's death the he was involved in producing an anti-drug video financed by donations at Wood's Paramount memorial, according to a March 23, 1990 Seattle Post-Intelligencer article by Gene Stout. Astbury also wrote a 1994 song, "Sacred Life," which mentions Andy.
He mentioned it at Pearl Jam's SoCal 10.7.1191 and 6.2.2003 shows, among other times.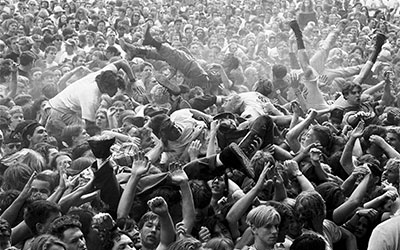 Northwest Passage
Northwest Passage is an exploration of the music scene centered around Seattle in the 80s and 90s. This project looks at all aspects of the rock scene, not just the part that became known as the "grunge explosion." Learn more about Northwest Passage