Up and Away: The Ballad of Up Records
Seattle's reign as capital of the music universe was short lived, but great music continued to be made in the pacific northwest even after the peak of grunge. Up Records was one record label that documented the "new" Seattle scene
The post-Nirvana '90s were not a good period for the once-hot "grunge" music scene.
Many bands of the grunge era had broken up. Problems with record labels or poor sales had ended many of the bands associated with "grunge," including TAD, Screaming Trees, Gruntruck, 7 Year Bitch and Soundgarden. Tragedy had struck bands like Nirvana, the Gits, and later, Alice in Chains. And the bands that stuck it out found that fickle music listeners for the most part were no longer interested in grunge or the "Seattle sound."
Even when grunge was at its peak around 1992-3, an indie scene continued to grow in the northwest, made up of bands that sounded nothing like the Soundgardens and Nirvanas that had taken over MTV and alternative radio. One of those who recognized the changing tide was Sub Pop employee Chris Takino.
Takino originally started Up Records to release records of his friends' bands. His first release was the "You Make Me Wish I Had A Gun" 7" from Violent Green in 1993, followed by 7" singles from regional acts Juned, Mike Johnson and Butterfly Train.
In 1994, Takino suggested to Sub Pop boss Jonathan Poneman that the label sign Boise band Built to Spill, a band featuring Doug Martsch (previously of the Seattle band Treepeople, whom Takino had managed). While Poneman said that Built to Spill did not fit Sub Pop at the time, he encouraged Takino to release the record himself.
[Up Records] was this fresh air that kind of replaced the stale grunge.

Megan Jasper, Sub Pop Records
With financial support from his Sub Pop friends, Takino released the second Built to Spill album, There's Nothing Wrong With Love, on Up in September 1994. The album became a hit and the label took off. At that point, Up became a full-time gig for Takino.
Takino continued to add bands to his label's roster, including 764-HERO, Modest Mouse, Caustic Resin, Mike Johnson, Butterfly Train and Quasi. He struck gold a second time with Modest Mouse, who like Built to Spill, would end up leaving Up for a major label. The music industry took notice, and Takino became known for having an ear for talent.
"It was no secret major-record companies watched Up Records to see what they put out," personal friend and Sub Pop staffer Megan Jasper told the Seattle Times1. "Chris had an incredible ear - he could listen to music, and he instantly knew if it was relevant, and how it was relevant."
While Sub Pop was floundering and flirting with bankruptcy in the aftermath of the grunge hype, Up was thriving. The sound of Seattle was changing, and perhaps no regional label documented this burgeoning indie scene better than Up Records.
"It was Up Records that was able to breathe a new life into what Seattle was," noted Jasper in the book Taking Punk to the Masses2, "and it was this fresh air that kind of replaced the stale grunge."
At its peak, Up Records had 20 bands on the label, despite only signing bands with whom Takino had a personal relationship. "He signed bands that were people he liked, doing music he loved," says Britt Ury, one of Up's four employees1. Despite only modest record sales, Up became possibly the most important label in Seattle in the post-grunge era.
But it all changed when Takino was diagnosed with leukemia.
Built to Spill.
With Takino taking time off for numerous treatments, Up was never the same. After a lengthy struggle, Takino succumbed to the illness on Friday, October 13, 2000, in Houston. He was just 32. While his partner, Pete Ritchey, took over the label, he did so under the agreement to only release records by artists that Takino had already signed. Aside from some one-off releases, including a solo album from Built to Spill's Doug Martsch, the record label effectively ended with Takino's passing. An era was over.
Though Up had only a short run as an active record label, its influence continues to this day.
Previous Feature
Next Feature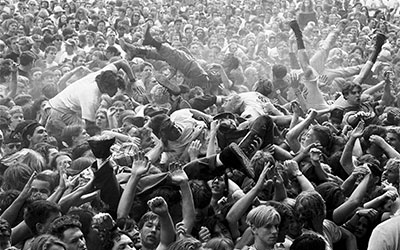 Northwest Passage
Northwest Passage is an exploration of the music scene centered around Seattle in the 80s and 90s. This project looks at all aspects of the rock scene, not just the part that became known as the "grunge explosion." Learn more about Northwest Passage