Proto-grunge: grunge stars from the garage days
None of these bands are household names. You'd be hard-pressed to find someone who even remembers some of these bands. But you will recognize some of the members of these groups, guys who would become megastars of the so-called "grunge" scene.
Alice 'N Chains
Layne Staley: vocals
Nick Pollock: guitars
Johnny Bacolas: bass
James Bergstrom: drums
Nope, not Alice in Chains, though Layne Staley was a member of both bands. This glam band formed in Seattle in 1986 by former members of Sleze (which also featured Staley) and recorded two demos before breaking up in 1987. The band was considered being called Alice in Chains, but declined to change the name due to objections from Staley's mother. Staley later used the AIC moniker for his next band, changing the name from Diamond Lie to the Alice in Chains name we know today.
Deranged Diction
Rod Moody: vocals, guitar
rep. Tom Kipp: vocals
Bruce Fairweather: guitar
Jeff Ament: bass
Tim Healey
Sergio Avenia: drums
Deranged Diction (allegedly the first hardcore band in Montana) originally formed in Missoula, Montana, in 1982, before relocating to Seattle in 1983. The band is known for being Jeff Ament's first band, but the band also contained his Green River/Mother Love Bone bandmate Bruce Fairweather. Future Swallow vocalist Rod Moody fronted the band after they moved to Seattle. In 2009, the band briefly re-united to play two shows, one at The Crocodile in Seattle and one at The Palace in Missoula. That year, the band also released a double-disc set that included a re-issue of the band's debut album, No Art, No Cowboys, No Rules and a second disc of songs re-recorded in November 2008.
The Ducky Boys
Chris Peppard: vocals
Steve Turner: guitar
Stone Gossard: guitar
Jeff Covell: drums
The Ducky Boys were the first band of future Green River and Mudhoney guitarist Steve Turner and the second band of Stone Gossard of Mother Love Bone/Pearl Jam. The band has no known releases. There are of no relation to the Boston, Massachusetts, punk band of the same name.
Fecal Matter
Kurt Cobain
Dale Crover
Greg Hokanson
Buzz Osborne
Mike Dillard
Fecal Matter was a short-lived punk rock outfit that was formed by future Nirvana singer Kurt Cobain. Melvins drummer Dale Crover was an original member, and his Melvins bandmates Mike Dillard and Buzz Osborne also joined the band. Their demo tape, titled "Illiteracy Will Prevail" was recorded either in December 1985 or Easter 1986, depending on the source. The band played one live show on May 3, 1986, in Olympia, under the name Brown Towel or Brown Cow.
March of Crimes
Jonathan Evison: vocals
Stone Gossard: guitar
Ben Shepherd: bass
The pre-grunge March of Crimes were the first band for both future Soundgarden bassist Ben Shepherd and future Pearl Jam guitarist Stone Gossard, and novelist Jonathan Evison. According to Evison, Gossard was fired, essentially because he was too good a guitarist to play for the punk band. Gossard later hooked up with The Ducky Boys with his high school classmate, Steve Turner.
Mr Epp and the Calculations
Darren Morey
Jo Smitty
Mark McLaughlin
Randy Rubato
Todd Morey
Tom Wolf
Jo Smitty was the mastermind behind Epp, who have become known as the first band of future Green River vocalist Mark Arm (then McLaughlin). The band started off as a fake band, plastering posters of their "band" around town before the band had even bought instruments. Epp eventually became a full-fledged band with several official releases.
The Shemps
Chris Cornell: drums, vocals
Matt Dentino: guitarist
Hiro Yamamoto: bass
Kim Thayil: bass
The Shemps were a short-lived cover band that contained three future members of Soundgarden, though only two at one time. Future Soundgarden vocalist Chris Cornell actually started as the band's drummer, and Kim Thayil was a later member of the band, playing bass, replacing his future Soundgarden bandmate Kim Thayil. The band reportedly only played covers of the Doors, Jimi Hendrix, Otis Redding and Buddy Holly, with one exception, an original song called "Marilyn Monroe."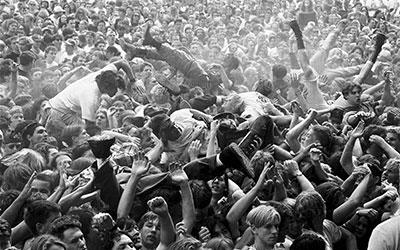 Northwest Passage
Northwest Passage is an exploration of the music scene centered around Seattle in the 80s and 90s. This project looks at all aspects of the rock scene, not just the part that became known as the "grunge explosion." Learn more about Northwest Passage